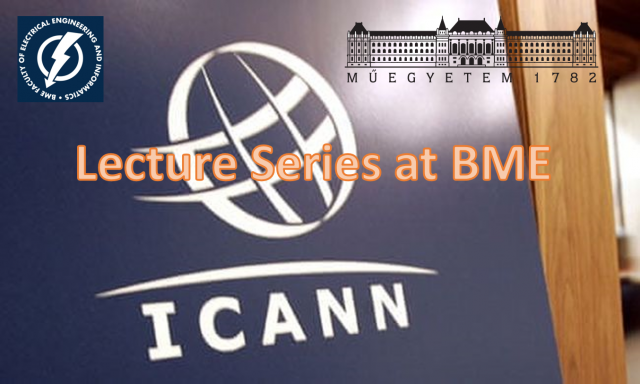 A series of lectures will be held during April 2021 given by experts of the Internet Corporation for Assigned Names and Numbers (ICANN). The lectures will focus on the introduction of critical infrastructures and the role of ICANN in the governance of the global Internet.

The event will be held online via Teams and hosted by the Department of Telecommunications and Media Informatics at the Faculty of Electrical Engineering and Informatics, BME.
Schedule of the lecture series:
DNS 101: An introduction to Domain Name System
David Huberman - Technical Engagement Manager, ICANN
Date: 13 April, 14.15 CET
Short bio:
David Huberman is the Technical Engagement Manager for ICANN in the Office of the Chief Technology Officer. David joined ICANN in 2018 and is based in the Washington, D.C. engagement office. Mr. Huberman is in his 22nd year in the internet engineering industry. Prior to joining ICANN, he was a network operator at companies such as Microsoft, Global Crossing, Oracle, and Telocity. He also spent 10 years as a senior member of the ARIN staff. Mr. Huberman graduated from Indiana University in 1996 with a bachelors of arts degree for a double major (telecommunications and geography). He lives with his family in Ashburn, Virginia.
Topic Summary:
David will introduce the Domain Name System and discuss how it is architected, its components, and its data structures.
ICANN and Internet Governance, IPv6 and Challenges with a Global Namespace
Patrick Jones - Senior Director, Global Stakeholder Engagement, ICANN
Date: 15 April, 10.15 CET
Short bio:
As Senior Director, Global Stakeholder Engagement, Patrick coordinates ICANN's Global Stakeholder Engagement activities across its regional and functional teams, working closely with counterparts in ICANN org's community-facing areas. He has been active in Internet governance, policy, technology/security and privacy areas since 2000. Patrick joined ICANN in 2006 and regularly speaks at regional Internet and DNS events on security, privacy and technology issues.
Topic Summary:
Patrick will discuss ICANN's role in technical Internet Governance, ICANN's role in the administration of unique identifiers such as Internet Protocol (IPv4 and IPv6) addresses, and describe the challenges of a global namespace. This will include recent guidance from ICANN's Security & Stability Advisory Committee and current work on name collisions.
Introduction to Internationalized Domain Names and Universal Acceptance
Sarmad Hussain - Senior Director IDN & UA Programs, ICANN
Date: 29 April, 10.15 CET
Short bio:
Sarmad Hussain is the Senior Director with ICANN's Internationalized Domain Names (IDN) and Universal Acceptance (UA) Programs. Earlier, Sarmad was a professor of Computer Science and held the IDRC Chair in Multilingual Computing. His research has focused on developing computing solutions for Asian languages, including research in linguistics, localization, speech processing and computational linguistics. He has been an active member of the ICANN community before joining ICANN, as a member of ICANN's Security and Stability Advisory Committee (SSAC).
Topic Summary:
Do you have a domain name or an email address in your own language and script? It is now possible to have entire domain names and email addresses in local languages using different scripts, such as Arabic, Chinese, Cyrillic, Latin, Japanese, etc., called Internationalized Domain Names (IDNs) and Email Address Internationalization (EAI). This session will introduce the complexity of the work for IDNs and how the communities globally are working to enable them securely. The current software applications may not support IDNs and EAI effectively and the session will also explain how to upgrade or configure your technology for the Universal Acceptance (UA) and IDNs and EAI.
Participation at the event is free of charge, but registration is compulsory!